Vision:
To become one of the best HR Department in the region.
Mission Statement:
To recruit, retain and develop quality staff which effectively supports the Human Resource vision of the MTI- HMC, and to meet the standards of professional excellence and effectiveness.
Introduction:
Human Resources department was previously known as "Establishment Section" but after implementation of MTI Reforms Act in 2015, a dire need was felt for development of Human Resource Department. As a result, Establishment Section was restructured and HR Department came into being.
Human Resources department of MTI-HMC is currently providing a number of services to the hospital including Recruitment on merit and ensuring transparency in the process, readily provision of information through timely updated records (both electronic and manual), formulation of policies for employees and arranging trainings and refresher courses from time to time.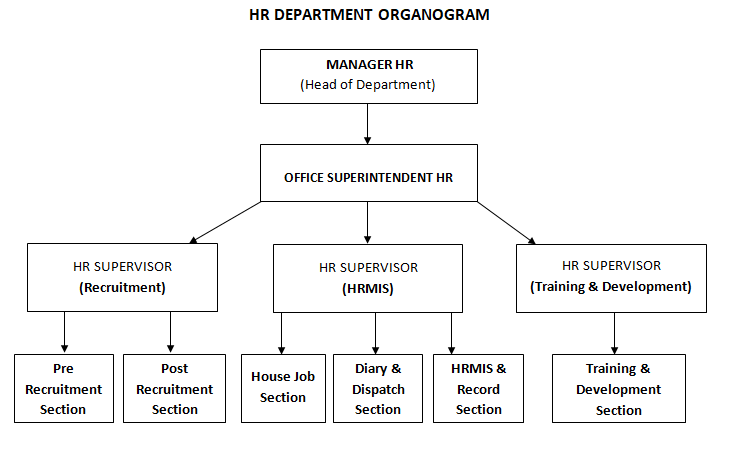 STRUCTURE OF HR DEPARTMENT
Sections of Human resources include:
Recruitment Section:
Pre Recruitment Section: The Pre Recruitment Section is responsible to support overall recruitment process. Additional responsibility of this section is to collect documents/certificates of all newly/existing/Ex. Employees and to setup their verification for making system better and transparent.

Post Recruitment Section: The Post Recruitment Section is responsible for the processing of all application received to HR department regarding all employees' matters i.e. Arrival, Departure, transfers, Retirements, Leaves Disciplinary actions, NOC issuance etc and perform verifications process and their follow-ups
Human Resource Management Information System & Record Section:
HRMIS & Record Section The main purpose of this section is to ensure timely and accurate delivery of required information to the quarter concerned. HRMIS & Record Section of MTI-HMC maintains the different modules of HRMIS and manual record.
House Job Section The main purpose of this section is to deal with all kind of affairs of House Officers getting training at MTI-HMC
Diary & Dispatch Section This section indicates all steps that requires to process incoming and outgoing official mail/correspondence in MTI-HMC.
Training and Development Section:
The main purpose of this section is to provide orientation to the new coming employees about rules, regulations and policies at MTI-HMC and to conduct time to time various customized in house trainings for technical & nontechnical employees.
Technical trainings may include Clinical and biomedical trainings for staff working at MTI-HMC.
Non-Technical trainings may include soft skills trainings for staff working at various departments of MTI-HMC.
Main focus of such trainings is always on inducing core organizational values in work ethics.
.